Live and Work Laneway Home

Location : Vancouver, British Columbia

Status : Permitting

The brief initially dictated a combination of an art studio and apartment. Commonly refered to as a lane-way house in Canada, this auxilary lot underwent policy change allowing for a more nuanced use of ones laneway property. As seen below, the design celebrates the program allowing for the multi generational occupants both in the existing main house and laneway to live and work with space for private semi - private and semi - public moments required in work and life.


South Section : Depicting both access into the apartment, art studio and rooftop deck. Right up against the rear lane, auxilary units tend to need privacy from all 4 sides resulting in an introverted design with moments of voyerism for both the occupant and the public.









North Section : The site falls on a steep hill, allowing for a play in scale. A modest presentation along the lane and porous facade looking into the rear courtyard. The roof top deck thus provides a much needed release, connecting the occupant to the context and benefitting from the altitude that allows for views into the North Vancouver mountain scape.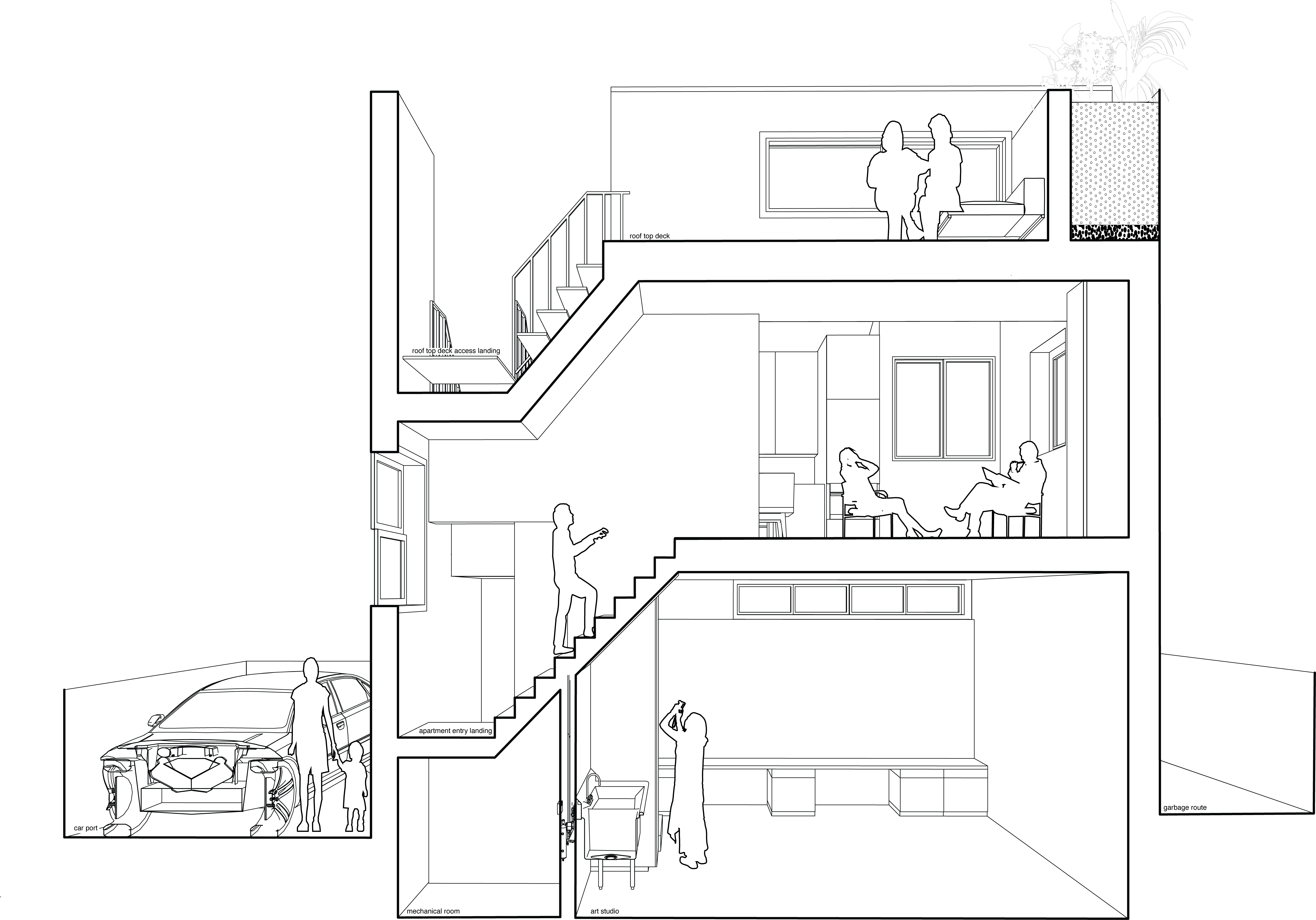 East Section : Designed with the intention to maintain warmth in the winter and cool in the summer, cross ventialtion integrated both in the building envelope (air gaps) and interior space ensures by simply opening or closing windows provides signifacant temperature and air quality differences. The clerestory windo looking into the apartment from the rooftop deck provides an atmosphere of washed natural light down the vaulted cieling and thermal gain throughout the year. The rendering of the light along the vaulted cieling provides the occupant with an intimate perspective of time of year and light.